Mike said that I am banned from cooking/baking/canning for gifts next year.
(Though, I really don't think he is serious)
This past holiday season, I spent a lot of time in the kitchen.
A Lot.
98% of the gifts we gave this year were homemade.
Just very time consuming..not to mention SPACE consuming!
We weren't able to sit down at our "kitchen" table to have a meal together for over a week.
In my defense, some of the stuff couldn't be made earlier..
plus, there was nowhere else to store the boxes.
Little hands would have loved to dig into them, if they had been given the chance.
Anyway.
Here are some of the goodies I made.
Sparkly Pomegranate Cranberries.


Cinnamon Honey Butter
Chocolate Chip Brownies
Homemade Strawberry Vodka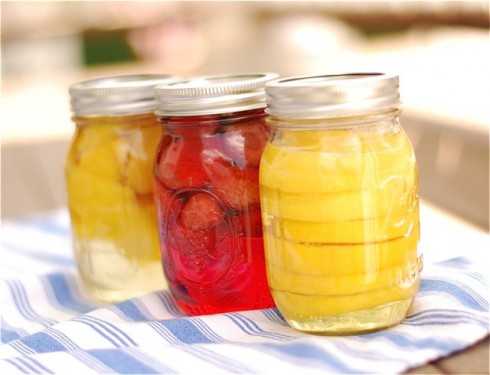 Quick Cream Cheese Cookies
Neighborhood Sweet Treats
Peanut Butter Cookies
Grapefruit Cranberry Marmalade
Sweet Onion and Pepper Relish
Candied Pecans
Chocolate Chip Toffee Bars
photo credits self explanatory
Samoas Bars
Coconut Bread
Pumpkin Bread
Banana Bread
Chocolate Chip Coconut Cookies
Saltine Treats
Molasses Cookies
Potato Soup
French Onion Soup
Roast Pork and Vegetable Stew
Pepper Steak
photo compliments of foodnetwork
(I must note that this is NOT a picture of my pepper steak or even the "recipe" I use..mine looks much more appetizing) ;)
There may have been a few more things..and certainly, some of the things were made more than once. I think you get the idea..my kitchen was a DISASTER for a period of time.
In the end though, I think it was worth it.
I like to try new things, so many of the recipes were "experimental."
I haven't had much feedback from the gift recipients...
Feel free to weigh in with your likes and dislikes.
Should I save or ditch any of these recipes?
*FYI, the recipes listed come from all over--internet, cookbooks, family, etc.*
**The Sparkly Cranberries picture is compliments of
www.cookingwithmykid.com
. For some reason it won't post under the picture**